So lately, been watching quite a lot of retro tv shows and I think it would be silly to not make something that's close to my childhood. The Arcade Cabinet means so much to me. It represents the time that me and my uncle spent together in the old Cebu neighbourhood. 
If you had 1 peso, that meant you'd get 10 minutes, and knowing that I came from Australia where the dollar was higher then, and I was generally there for a good 2-3 hours a day if not longer. I enjoyed making this and can't wait to discuss more ideas regarding this project.
Kids of today will never truly understanding the effort that we took to play videogames. 
The artwork is a test to what the actual game might look like or if Stranger Things was a game Cabinet, my intention with these cabinets is to create an 80's / 90's arcade, with lots of elements from my childhood. I would probably like to give it origins and this would be a gift folio piece for my uncle and set this as a thank you, bringing me in a world of 3D, hence even writing here on Artstation I couldn't thank him enough.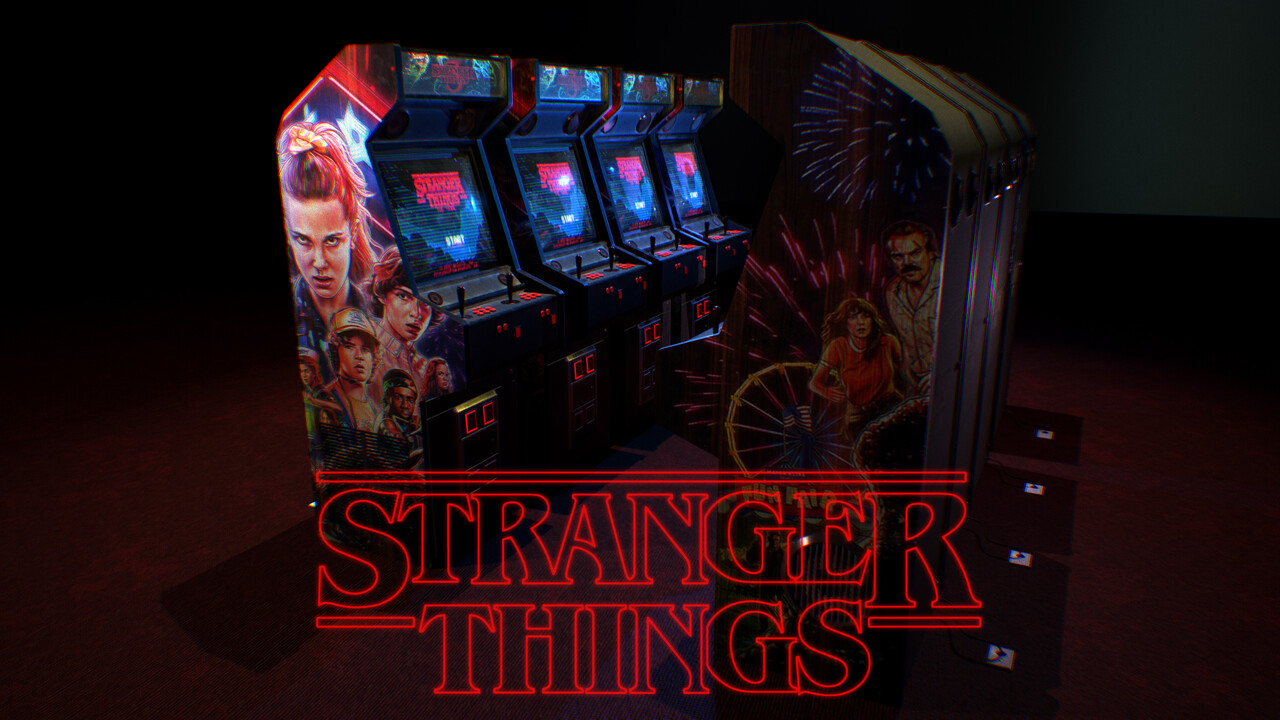 Now let's get a little technical. All sorts of machines will be in this scene to come, even the sticky carpet you find at cinemas. For the textures, I used a wood finish and have the roughness only at 5%, used normal brush maps for the side vent and door panel inserts, the vent was interesting. Because some machines what I knew anyway would paint the whole side panel and just leave the vent gaps. So I gotta away with that. Dirt, mould, and dust materials were used and masked out areas of interest. I'd say about 5-10% Emissive was used for the buttons (let's remember there was only one diode for each one), a little more emissive for the coin slot because it's dark in that spot. A brighter emissive for the head title above with a cylinder as the fluorescent tube, you can sorta see it. And knowing back then most of the parts are pretty basic, 90% of the materials are basic grainy plastic with custom parameters set. Did I mention it has stereo sound? Two at the top, two in the front and bass on the side. I've also added rear exhaust fans for heat and the power switch and the cord for the wall along with the outlet. Rear access with the security lock and stickers with grim, and some dust and worn effect. But more renders will show that in the next post.
Titles will be based on AAA and fictional games just like this example. I recently watched Stranger Things and that's why it looks the way it does. Getting that energy and throwing it here makes the topic on talk much more powerful, I'll continue with that mindset in the future with other projects. So I've finished the default cabinet material, now what? Well, I'll tell you. The cabinet is now completely modular when it comes to art. If ever I need a new machine I just swap out the layers with a few clicks. Which means I can have any game I want and pretty much make an Arcade outta these, which is exactly what I'll be doing. Next few posts will be different variations of the game types and a bit of a breakdown on how I swapped them out. This took me about a total of 3.7 Days.